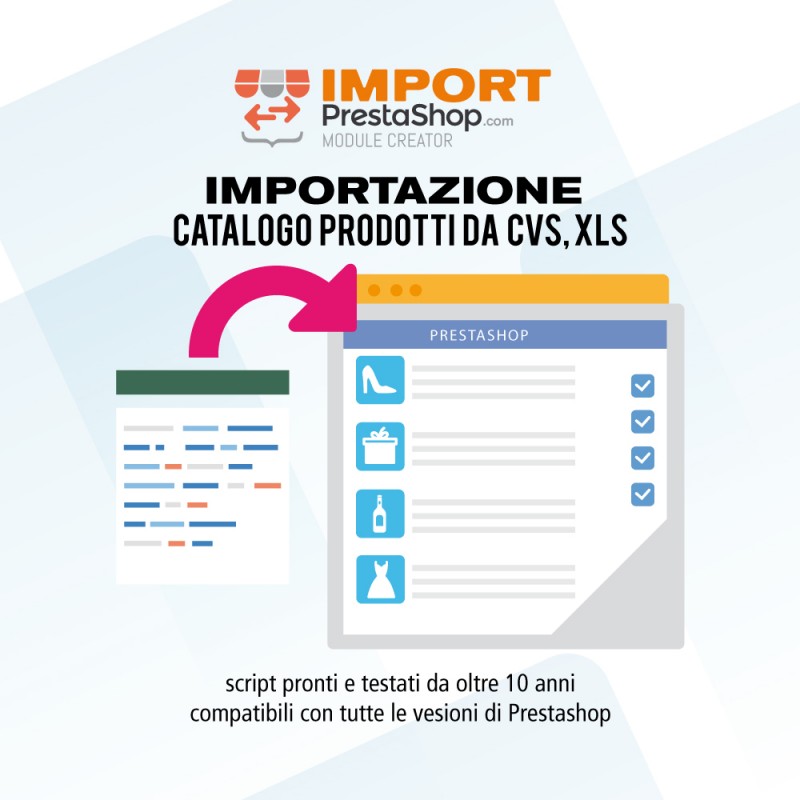  
Import into PrestaShop csv or xls
Importing a file into PrestaShop is a long and not easy job, we have scripts ready and tested for 10 years, trust us and in a few days your catalog is perfectly filled.
Politiche per la sicurezza (modificale con il modulo Rassicurazioni cliente)
Politiche per le spedizioni (modificale con il Modulo rassicurazioni cliente)
Politiche per i resi merce (modificale con il Modulo rassicurazioni cliente)
With this product we take care of importing the products on your prestashop. We use scripts created by us and not the import of prestashop with enormous advantages in terms of speed and functionality, in fact our import creates category trees and can also have variants in the same file.
You give us a csv or xls or xlsx file (or other after a quote) and we import your products and provide you with the already filled database tables, or we do the work directly on your site.
Compatible with:
categories up to 5 levels
multicategories up to 3 categories per product
images up to 10
Atrributi (attributes)
Features
Brands (Brand)
ean codes for both the product and the variables
The work will be tested on our servers on the same version of prestashop, and mounted on your newly approved one.
If you then want a script that automatically updates the products from your file you can choose the PWI import module, at a discounted price if we have already done the work of first import.
Data sheet
Importa Immagini

Sì

Importa Attributi (attributes) es. taglia e colori

Sì

Importa Funzionalità (features, caratteristiche, scheda tecnica)

Sì

Importa Albero categorie completo (fino a 5 livelli, fino a 5 categorie differenti per prodotto)

Sì